Prague or Praha?
Prague at night: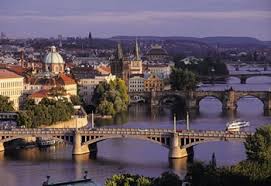 Last week in accompany with the vice -president of our university , me and another student went to attend in the "3rd International best PhD Medical essays " which was held in Hradec Kradlove, Czech republic. Actually , the conference was a kind of competition between PhD student in Czech and for the first year ,they invited some people from other countries including , Britain ,Germany ,Netherland,Zagreb ,Norway and Sweden. From England just 2 university of Manchester and Liverpool were invited .
For Manchester , because the vice-president of university is the preseident of Medical schools in Europe they asked him to bring two students with himself and in a competition between all PhD students inside faculty of Medicine ( including medicine,dentistary,nursury, psycology and pharmacy), me and another student ( amazingly from the same group) were selected .
 The conference was very good and the city was beatiful . The conference held in Edcation Centre of Hospital University of HK , a beatiful new building ...
Write more later about this trip & conference ......
پرشین بلاگ
Persianblog